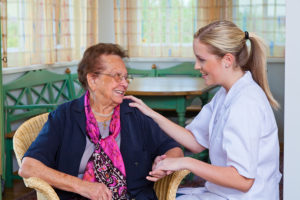 Here at Anthem Insurance, we take pride in offering premier home health care insurance that Normal, IL, locals rely on. We specialize in offering solutions that cover a wide variety of home
health services. If you're considering long-term home health care for you or one of your loved ones, specialized insurance can both help to protect you and potentially help to cover costs.  
In the case of long-term care, this type of insurance can help pay for certain care services in an assisted living facility, at home, or in a nursing home. Other common services that Normal, IL, home health care insurance may cover include geriatric care management, adult day care and support, and even necessary home remodels. We offer many high-quality, flexible options to fit every type of family. Keep in mind that most forms of regular medical health insurance do not pay for personal home care services. This means that you should invest in specialized coverage. Here at Anthem Insurance, we will make sure that you get the best home health care insurance possible.
About Normal, IL
Normal is a quaint city in McLean County, Illinois; its population is estimated to be around 52,000. This city is home to the main campus of Illinois' oldest public university, Illinois State University, as well as to a few community colleges. The city also boasts several well-known attractions, such as top-billed museums and various parks and outdoor facilities. Normal has a thriving arts scene, with annual arts festivals and events. In addition, the city is a hub for sports endeavors and shopping centers.
Contact the Experts at Anthem Insurance Today
Do you have further questions about how home health care insurance could benefit you and your family? Contact Anthem Insurance today! We're proud to provide the home health care insurance that Normal, IL, depends on. Our team is always happy to answer your questions and offer our expert assistance.