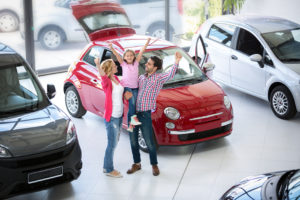 Are you considering purchasing insurance for your vehicle? Great choice! Automobile Insurance puts you on the right side of the law, and will protect you from potential fines and legal problems. You want to find the automobile insurance that Lincoln, IL, residents know and trust — that's where Anthem Insurance comes in! Here at Anthem, our team of insurance experts will ensure that you walk away with the coverage you deserve.
There are many benefits that make automobile insurance irreplaceable for vehicle owners. Here are some of the most common reasons for you to invest in automobile insurance in Lincoln, IL:
Adhere to the law. In most states, automobile insurance require liability insurance, at the very least. By choosing not to purchase insurance for your vehicle, you're likely breaking the law — and you may risk losing your license altogether.
Be protected in an accident. In the case of an accident, it's important to have insurance that covers any expenses related to medical costs, legal costs, repairs, etc. Otherwise, you will need to pay any of these costs out-of-pocket — which isn't exactly ideal!
Cover potential medical costs. Medical costs can be outrageously expensive. For this reason alone, auto insurance, which covers these costs in the event of an accident, is critical.
Relieve stress. By purchasing Lincoln, IL, automobile insurance, you can rest easy and relieve any potential driving-related stress. Why? Because, with insurance, you can drive without worrying about accident costs or expensive tickets. You can focus instead on safely getting where you need to go. Relieve your stress — purchase auto insurance today.
Contact Anthem Insurance Today
Are you seeking reputable automobile insurance that Lincoln, IL, locals can consistently rely on for all their insurance needs? Look no further than Anthem Insurance! Contact us today to learn more about how automobile insurance can protect you.